POWr Social Feed is the easy way to automatically show posts from social media on your website. Combine posts from Facebook, Twitter, Instagram, Pinterest, YouTube, Vine, Vimeo, and more in a single gallery.
Why is a social feed important? It's a great way to drive social engagement from your website visitors by leading them to follow you on your social media accounts.
You can also use the social feed during an event by showcasing a hashtag to all website visitors and encouraging them to partake in the event or initiative you're hosting.
Creating a social feed and adding it to your Creator website is fairly easy. Simply head over here - a new page will appear where you can create your Social Feed plugin.
The POWr Editor will appear on the left-hand side of the screen. Here you will create and edit your plugin.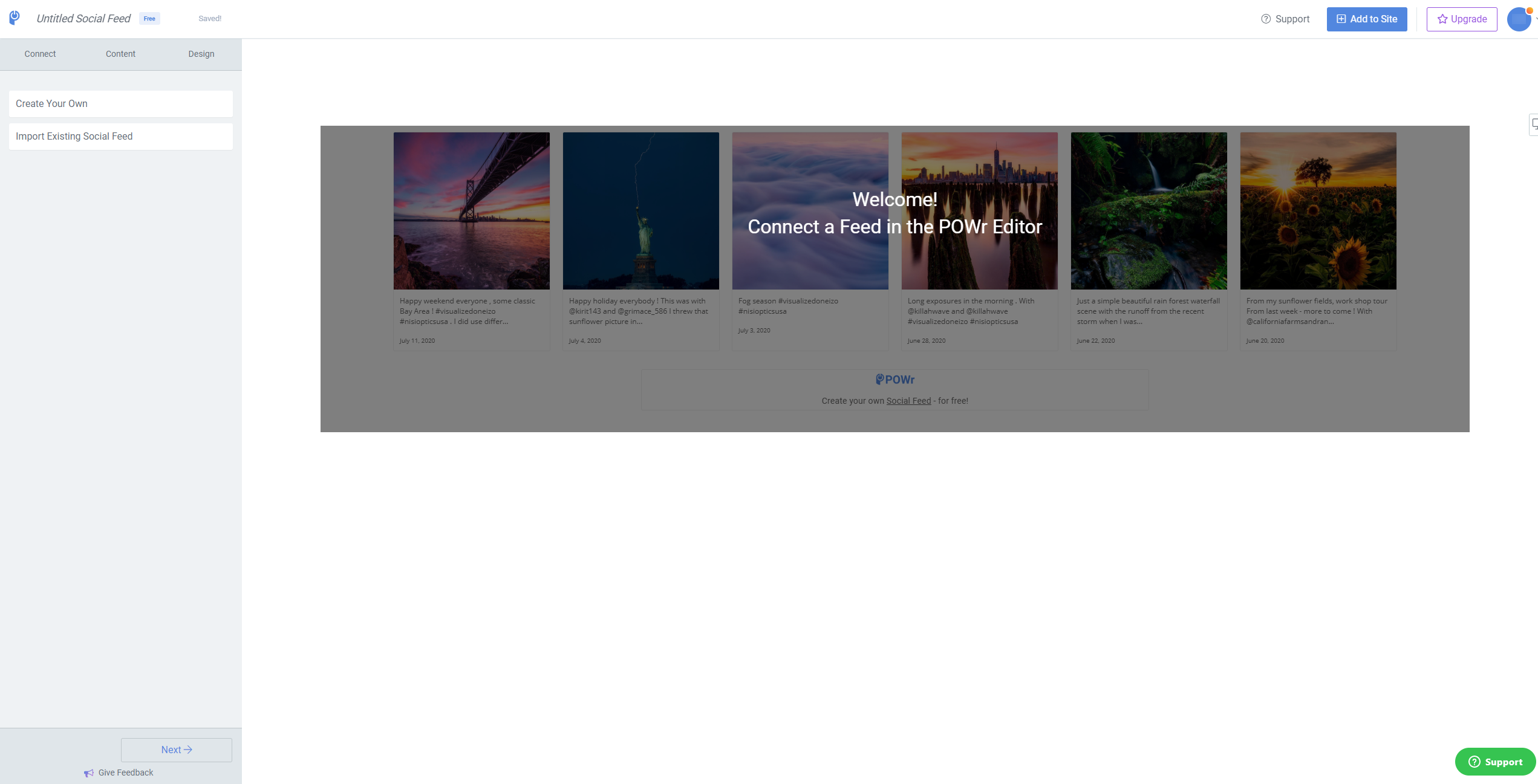 To connect a feed, go to the Connect menu. You can connect to the following types of feeds:
Facebook - any event or business page. You cannot connect to a personal Facebook profile
Twitter - any @handle or #hashtag.
Instagram - any @user or #hashtag.
Pinterest - any Pinterest board.
YouTube - any user, channel, or playlist.
Vimeo - any user or channel.
Vine - any @user or #hashtag
Flickr - any Flickr account.
DailyMotion - any user.
RSS - any RSS feed.
Once it's ready, you can add it to your website, share it on social media or via email, or just save it for later in your POWr account.
Here's how to add Social Feed to your Jimdo website:
Log in to your Jimdo account and choose the desired website
Click Edit to enter your Jimdo Creator website's edit mode
From the POWr Editor, click 'add to site' and copy your unique code
On your Creator website's editor, hover over the content area to click on Add Element > More elements and Add-ons
Choose the Widget/HTML Element and paste your unique code
And you're done!
If you need to edit your social feed, simply click the Edit button above your Social Feed plugin. Click Next to move through the POWr Editor, and Save to finish. If you're unable to do this, simply head to your POWr dashboard on powr.io.